VISION®: Discrete and versatile multi-support lens dosimeter


The International Commission on Radiological Protection (ICRP) recommends lowering lens of eye annual limit down to 20 mSv. This value has been included in the European directive 2013/59. In 2018, the directive is implemented in regulatory texts in most European countries.
The use of a lens dosimeter is specially recommended for potential dosing professional activities such as:
interventional radiology and nuclear medicine
imaging in veterinary practice
handling within glove boxes
maintenance operations in the nuclear industry
Download the technical file
Technical specifications
LANDAUER® has developed a lens dosimeter to assist you:
Ergonomic, compact and flexible: it adapts to all protection supports such as lead glasses, visors, caps, etc. It can be used behind lead glasses as close as possible to the eye without obstructing the view. VISION should be worn to the left or to the right of the eye, or in the middle of the glass.
Simple, fast and durable identification by laser engraving.
Easy to disinfect.
Firm fixation: two sizes are available to adapt to your personal protective equipment. The lens shifts from a horizontal position to a vertical position to adapt to your personal protective equipment and to your morphology.
Anti-skid pads
Adapted to several supports
Compact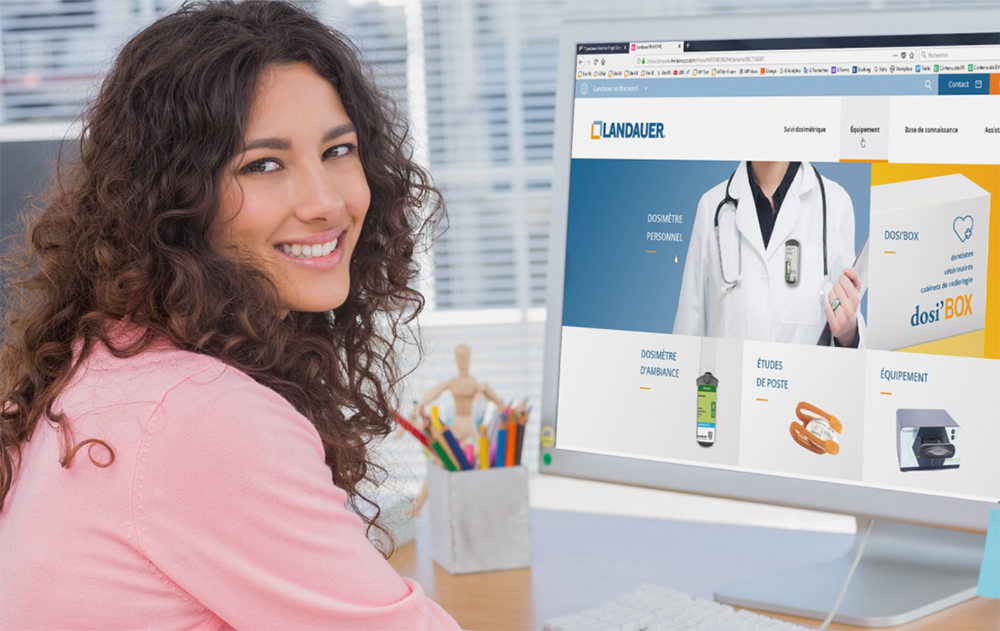 Services to accompany you on a daily basis
LANDAUER supports you beyond the provision of dosimeters. We help you manage efficiently and smoothly your dosimetry subscription.
LANDAUER provides you with:
the web platform « LANDAUER Direct » available 24h a day, 7 days a week, to manage your dosimetry monitoring
its customer service team
its technical assistance for complex requests and management of high dose alerts
Discover all our services!
Related accessories