IPLUS® and Neutrak®: High performance integrated neutron dosimeter




LANDAUER® provides you with IPLUS & Neutrak, a unique dosimeter incorporating the Neutrak detector in the IPLUS  badge. The dosimeter is used to measure X-rays, beta and gamma radiation, as well as thermal, intermediate and fast neutrons.
Provide your team with a two-in-one dosimeter:
the lightest and most compact dosimeter on the market (17 g, 35 x 74 x 10 mm)
the only certified neutron dosimeter in France covering the energy range of thermal neutrons at 16.5 MeV
tested by the National Physical Laboratory (NPL), an accredited and independent laboratory in the UK
easy to wear and ready for use at the chest, wrist or ankle
compliant with EN 62387:2016 (IPLUS) and ISO 21909-1:2015 (Neutrak) standards
Download the technical file
Technical specifications
IPLUS with Neutrak complies with the following standards:
EN 62387:2016 Radiation protection instrumentation – Passive Integrating Dosimetry Systems For Environmental And Personal Monitoring of photon and beta radiation
ISO 21909-1:2015 – Passive neutron dosimetry systems – Performance and test requirements for personal dosimetry
Dosimeter
IPLUS
Neutrak-T
Neutrak -J
Manufacturer
LANDAUER (designed and manufactured in our laboratory in France)
Type of radiation measured
Photons (X and gamma radiation) and beta
Neutrons
Dose equivalent
Hp(10) and  Hp(0,07)
Hp(10) chest and wrist
Detector
GN, new filter holder housing
CR-39 ( PADC: poly-allyl diglycol carbonate)
Technology
Carbon-doped aluminium oxide, Al2O3:C
SSNTD (solid-state nuclear track detector)
Minimum reporting value
0.05 mSv
0.1 mSv
Converter
N/A
Polyethylene and Teflon® doped with Boron 10
Polyethylene
Linearity response
0.05 mSv to 10 Sv – Standard deviation < 5 %
0.1 to 10 mSv (thermal neutron)
0.1 to 250 mSv (144 keV to 16.5 MeV)
0.1 to 250 mSv (from 144 keV to 16.5 MeV)
Energy response and related angular response
Photons Hp(10) : ± 60° from 15 keV to 6 MeV
Photon : Hp(0,07) : ± 60° from 15 keV to 1.33 MeV
Beta: ± 45° from 0.24 to 0.8 MeV (Emean)
Thermal neutrons and from 144 keV to 16.5 MeV from 0° to ±60 °
From 144 keV to 16.5 MeV from 0° to ±60 °td>
NEUTRAK J -Intermediate and rapid neutrons
NEUTRAK T – Thermal, intermediate and rapid neutrons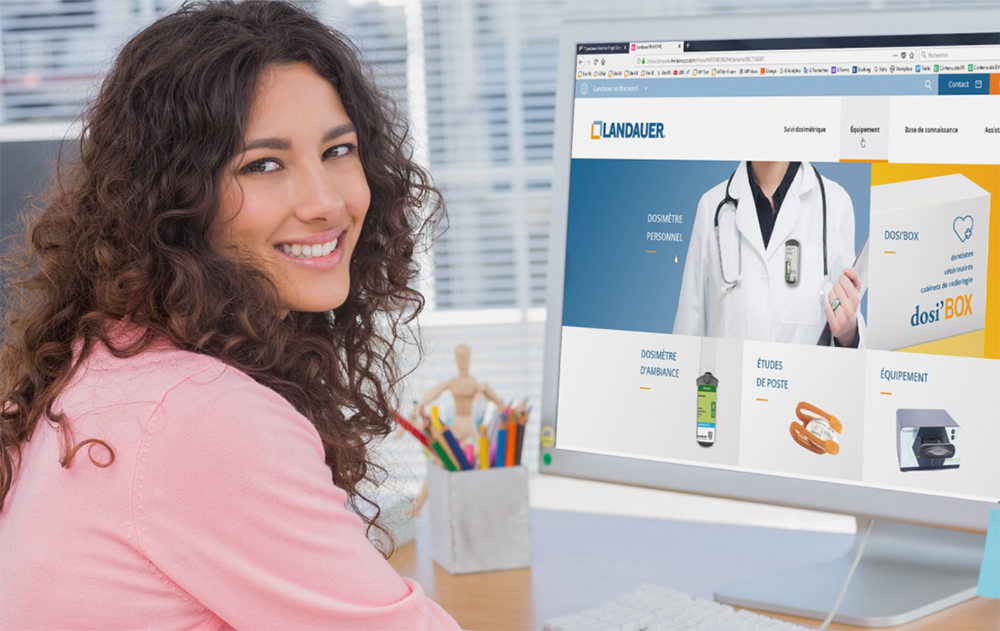 Services to accompany you on a daily basis
LANDAUER supports you beyond the provision of dosimeters. We help you manage efficiently and smoothly your dosimetry subscription.
LANDAUER provides you with:
the web platform « LANDAUER Direct » available 24h a day, 7 days a week, to manage your dosimetry monitoring
its customer service team
its technical assistance for complex requests and management of high dose alerts
Discover all our services!
Related accessories